The Environment Agency was looking to explain their new 'Adaption Approach' to flood & risk management. A fellow student & I developed two animations to explain this new concept in a clear and engaging way to their wide range of stakeholders.
The two analogies created were so well received by the Environment Agency that they displayed the storyboards at the United Nations Climate Change Conference, commonly referred to as COP26 held in
 Glasgow!
Link to RJ
 report coming soon
The brief
The client's main pain point is explaining their new 'adaption approaches' (AA) in a clear, engaging & memorable way. Stakeholders need to understand what is AA, how it works & why it is beneficial. 
The EA needs to sell this new concept to stakeholders,
therefore the deliverable not only need needs to inform its audience, but it must also convince stakeholders that this is a trustworthy and beneficial approach. 
​​​​​​​
Understanding the users
With the help of the Environment Agency users were defined and divided into two key groups:
- Internal stakeholders such as EA employees and investors. 
   and 
- External stakeholders such as local councils and local residents of flood risk areas.
Identifying user groups helped establish what level of detail they would need from the two deliverables. 
​​​​​​​
Deliverable ideation
As the EA is a public body there were restrictions in terms of what could be produced as a deliverable, e.g. websites had to a government website. 

A traffic light system evaluating potential deliverables was created and presented to the client.

Animations were found to be most fitting as they can be informational but still convey a compelling and engaging narrative that will be more memorable than a diagram or chart or static graphic. 
Animations of course lend themselves to voice-overs which can convey information in an efficient and accessible way to a broad audience. 
​​​​​
Two deliverables
As the two user groups required a different level of detail from the deliverable, it was decided that two deliverables would be created, one for each user group. Two analogies explaining Adaptation Approaches were developed. For the broader external stakeholders, an analogy of an agile and adaptive ninja was created to represent adaptation approaches. For the internal stakeholder, AA's were likened to the intuitive strategic thinking of playing chess. 

With the help of the client, the level of detail and accuracy was tailored to each analogy to suit the needs of the identified stakeholders.
​​​​​​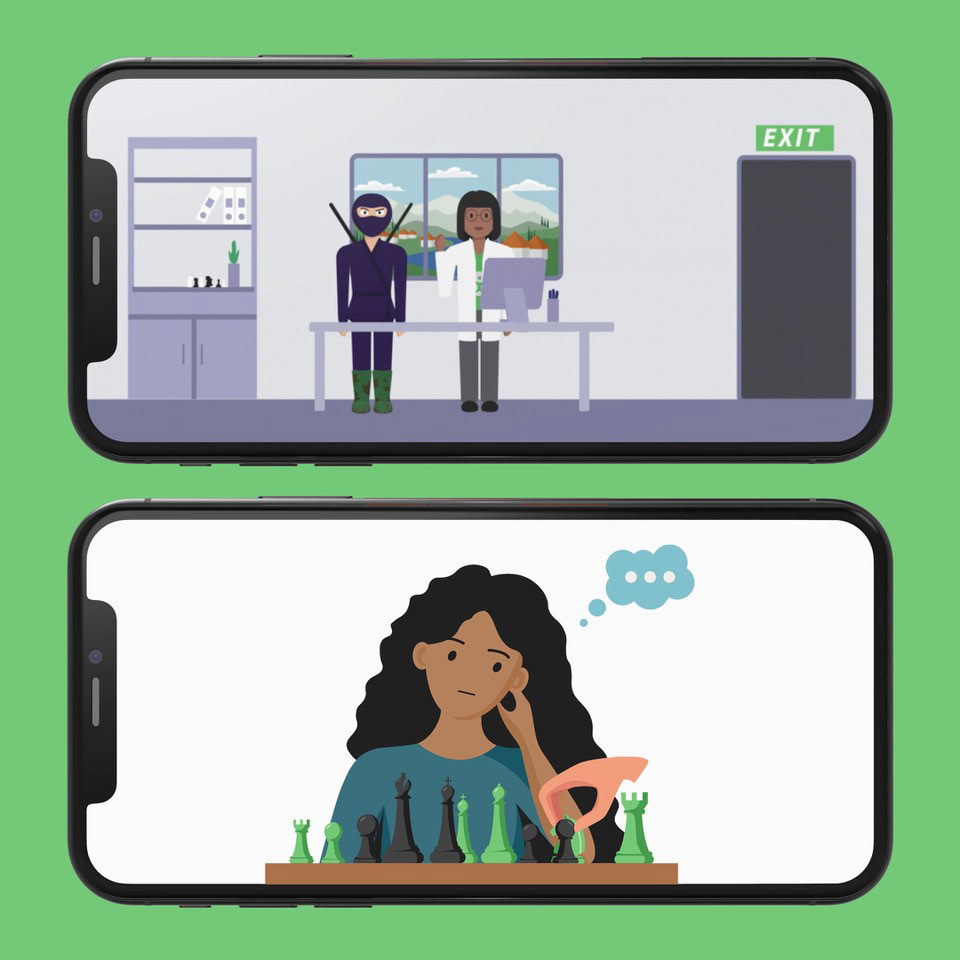 Initial storyboarding 
Many iterations and tweaks were made in the storyboarding phase of the project to refine details and specific wording that was important to our client. 
This level of storyboarding was beneficial as it encourage the deconstruction and reconstruction of the initial concepts to rethink how they could be interpreted by the audience who may have no prior knowledge of AA's.
Another refinement that was often considered was the implications of what was being visualised, as the EA wanted to avoid negative stereotyping, for this reason, the male scientist was changed to a woman and the villager characters were edited. 
Illustration style

After the client sign-off on the initial storyboards, high-fidelity illustrations could occur. A slim colour palette was created to avoid overly distracting or garish colours. gradients were avoided to create a sleek, modern more 'flat' design appropriate for the already complex scenes. Where possible tints of an existing shade were used to avoid yet another colour being added to the pallet.
the environment agency green was injected across both deliverables (see scientists' top or chess pieces) to create a more recognisable brand. The client was incredibly pleased with both illustration styles, giving the green light to finish the rest of the storyboard in high fidelity.
High fidelity storyboards for COP26
The high fidelity storyboards were developed with the aim of being shown as part of COP26 in Glasgow.
Although having the final deliverable presented at COP26 would have been great, the animation was still in its storyboard stages. instead, high fidelity storyboards were displayed to explain the EA's new approach.
Animating 
Following the illustration phase, the animation process began. This was a much more challenging stage of the design process as both my colleague and I had little to no experience using adobe after effects before. Although challenging at times, it proved to be very rewarding to learn new technical skills and apply them to this project. Later, a script was developed and iterated with the help of client feedback to edit particular terminology. 
​​​​​​​
Final deliverable
Once the voiceover was matched up with the animations, the project was ready for handover.
W
ith this came valuable professional skills in terms of sending packages to the client that they may need in the future if they were to edit or have someone continue working on this project. 
Reflection 

Overall, this project provided a steep but beneficial earning curve in terms of using Adobe After Effects. Additionally, this has been an excellent experience to work with a 'real world' client. Critical skills where gained such as time management between designers and clients. Going forward, the technique of outlining a timeline will definitely be incorporated into future projects with clients to help communicate which steps must first be achieved to carry on working to a tight schedule. 

Finally it is always rewarding to hear that the brief has been met and both my team mate (Emily Bagnall) and I were delight to hear that out design ......